Lt. Col. David Fallon, Commander of Black Sea Rotational Force 15.1
"Even Though We Have a Different Nationality, We Are Here to Offer Our Support Unconditionally"
04 Jul, 2015 00:00
1470
Marime text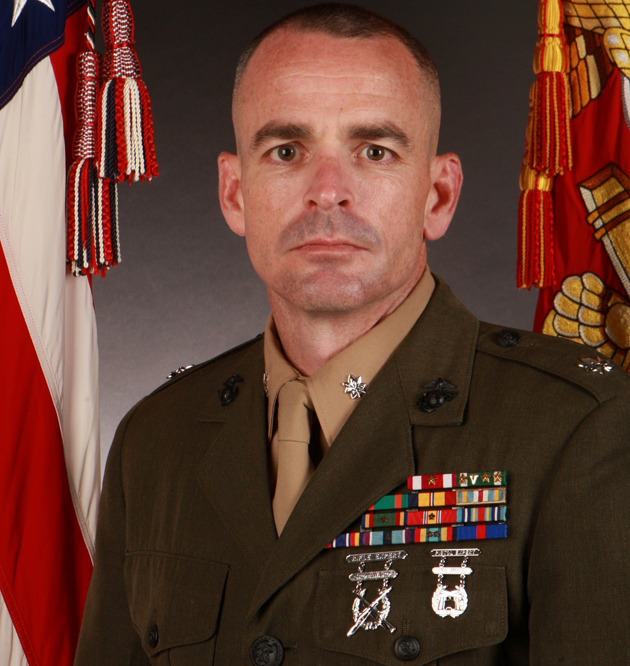 It's been almost eight years since the first American soldiers came to Mihail Kogalniceanu Military Base. Today, soldiers from overseas are considered part of the local community, and the friendship feeling is mutual. Holidays spent thousands of kilometers away from home are however the moments they feel most our hospitality, meant to substitute as much as possible the absence of their families and loved ones. One of the most important holidays for Americans is, undoubtedly, Independence Day - July 4th. Lt. Col. David Fallon, commander of Black Sea Rotational Force 15.1. told us about the purpose of the Marines present in Mihail Kogalniceanu Base, about their missions, and also about the relationship with the Romanian people.
It's been four months since the opening of the multinational annual exercise Black Sea Rotational Force 15.1 in Mihail Kogalniceanu Military Base. How do you estimate the effort level of the mission in Romania compared to the missions you have accomplished in other countries?
I'm really impressed with all of the accomplishments of the Black Sea Rotational Force, both in our exercises and military-to-military engagements, as well as through our community outreach programs. We've participated in six multilateral exercises so far with great success. Two of which were in Romania, and we are about to begin our final two exercises where we will be working with Romanian troops in Georgia and Bulgaria. We're also thankful to be so welcomed into the local community and we've tried to give back with equal generosity by conducting environmental clean-ups, displays of our gear and equipment, and serving underprivileged youth and renovation projects. Although we have a different nationality, we are committed to service, and that knows no borders.
General-Lieutenant Robert B. Neller - Commander of U.S. Marine Corps Forces-Europe attended the opening ceremony of the Black Sea Rotational Force 15.1 exercise in February this year. Did his presence in the beginning made the mission more compelling?
Lt. Gen. Neller's visit to Mihail Kogalniceanu emphasized the importance of our mission here. We have taken into account the guidance he gave and the feedback from the past rotations and our Romanian counterparts, and incorporated it into our actions to allow us even greater success than we could have imagined.
They say that Marines are known for their tough training. Tell us a little about being a Marine and who can join these troops.
The United States Marine Corps prides itself in being the most elite fighting force in the world. Our goal is not only to create great warfighters, but to create better American citizens. We look for the best Americans. It is a difficult process to become a Marine. Many are not qualified to be Marines. Our selection process is based on a number of different measurements, but largely are focus on mental aptitude, physical fitness, and they must be free of any character flaws. Once a Marine, it is this training and prowess that we hope to share with our allies around the globe and here in Romania. We know alongside our NATO partners we are not only stronger but can serve as a unified front against any threat we may face in the future.
Is the mission in Romania different from the missions undertaken in other parts of the world? What are the characteristics of the mission in our country?
The Marine Corps has been very busy over the past two decades during the Global War on Terrorism. Our Marines have bravely fought in some of the most dynamic battlefields around the globe and during that time we fought alongside our partner nations during various coalitions. Our Marines are combat tested but we know the value of our allies and partners. Being forward postured near the Black Sea allows us to have a very flexible position to provide training and support to the region, and we see this as the way ahead as the world evolves because missions like this make us all stronger allies.
The Black Sea Rotational Force is a contingent of Marines and sailors in the Black Sea, Balkans and Caucasus that maintain proven partnerships, improves interoperability, promotes collective security and provides the capability for rapid crisis response as directed by U.S. European Command and U.S. Marine Corps Forces Europe and Africa.
What did you know about Romania before you came here and how do you see our country today?
I looked forward to coming to Romania and seeing for myself how far the country has progressed in the past 25 years. Now that I am here, I am very impressed with Romania and the professionalism of the Romanian troops we work with. Romania is a nation with a rich sense of culture and history. It is an absolute pleasure living and working here, and I am looking forward to seeing what more it has to offer.
Many elderly people say that they have waited for the Americans for 25 years. Now the Americans are here, and the Strategic Partnership strengthens more the bilateral relations between Romania and the US. How are the American soldiers feeling in Romania and what does Romania mean to them?
Romanians are more than our allies, they are our friends and gracious hosts. We have learned a great deal from constantly being integrated as part of this community and training together in the field. For that, we are very thankful and look forward to continuing this friendship for many years to come.
From the beginning, American soldiers from Mihail Kogalniceanu Military Base have been involved in many social and cultural projects in different places in Constanta County. What feedback did you get from these interactions?
The outpouring of support for BSRF's community outreach programs from my Marines and from the community is not surprising. We are friends and friends support each other. We are thankful to be able to be involved in so many projects in Constanta County and look forward to continuing to do more of these projects. Of note, I am extremely proud of the efforts at the 'Nature Unites Us' park clean-up and the renovations done at Casa Benjamin where together we volunteered more than 300 hours in home renovations projects.
You will celebrate this 4th of July far from home. What will you miss most?
First of all, it is fantastic that Romania does so much to make us feel welcome by hosting events on the Fourth of July. As you know, Independence Day is very important day to our nation and serves as a stark reminder of how far our nation has come. We are having a 'Kids Day on MK' July 4th celebration on base and participating in several events out in town. Personally, I will miss my family this 4th of July, but I know between the support we have here at MK, and the support my family has at home, that we are both celebrating and thankful for what we have.